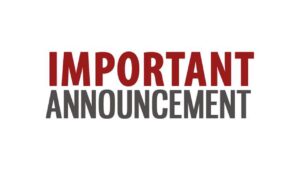 Dear Bethel Family & Friends: I want to communicate to you some items that are pertinent to our moving forward, as we continue to operate in this pandemic.
First, we will resume in-person worship and Sunday School this Sunday. We will resume all participant schedules for the lift, overhead, and the like. We will also hear a profession of faith. We encourage you to wear your mask.
Second, the annual congregational meeting is scheduled for November 8 after morning worship. This date is tentative. It could be pushed backed to later in November or early December. The Consistory is exploring a virtual meeting since we know that not all of you can, or will, attend an in-person meeting. We need to investigate how to vote on the budget if we have a virtual meeting. Stay tuned. This situation is very fluid.
Third, the community Thanksgiving service is canceled for this year. Therefore, Bethel will have her own Thanksgiving service on Wednesday evening, November 25 at 7 p.m. Pie and other refreshments will be served safely following the service in the basement. Our Thanksgiving offering will be taken on Sunday, November 22. If you do not plan to attend, but would like to give an offering, you are free to drop off your offering, donate online, or send it. The deacons have not finalized a destination of this offering as of this writing.
That is all for now. Thank you for your patience and for being flexible.
-Pastor John